Colorado is a land of plenty, offering some of the most scenic places to hike, bike, and ski in the United States. With all the great opportunities to SUP in Colorado, it's time to add stand-up paddle boarding to that list!
I tried stand-up paddle boarding for the first time a few years ago and I had such a blast that it has since become one of my favorite summer activities, especially in beautiful Colorado. It's a relaxing way to get out on the water and take in your surroundings, all while getting a good workout.
If you find yourself in the Rockies this summer and want to see a different side of the Centennial state, here's a list of some of the best places to SUP in Colorado.
Important Reminder: As outdoor recreationists, it's our responsibility to know how to recreate responsibly on the water whether we're kayaking, paddleboarding, canoeing, rafting, or boating. Learn how to prevent the spread of aquatic invasive species with 3 easy steps that have a huge impact on our ecosystems.
Best Places To Stand-Up Paddle Board in Colorado – Mapped
---
6 Places To SUP In Colorado
1) Cherry Creek Reservoir
*Note: Toxic Algae Blooms have been detected in Cherry Creek Reservoir in 2023. Pay attention to signage and avoid swimming or letting your dogs come in contact with the water in affected areas.
First, an awesome spot to SUP in Colorado is right in Denver's backyard – Cherry Creek Reservoir. With 880 acres of paddle-ready water, this local spot has tons of activities for the whole family to enjoy even if you're not in the water.
In addition to paddle boarding, in the summer months, there are a variety of other activities at Cherry Creek like model airplane flying and horseback riding (check out the park's website for a full schedule).
There is a fee of $11/day per vehicle and overnight camping is available.
2) Horsetooth Reservoir
While Horsetooth Reservoir isn't exactly quiet and secluded, its proximity to Fort Collins makes it a super convenient place to SUP in Colorado. The Satanka Bay at the northern end of Horsetooth Reservoir is reserved for paddlecraft use only, so you don't need to worry about motorized boats while you enjoy the views that look over Lory State Park and its rolling hills and rock outcroppings.
The entrance fee for Horsetooth Reservoir is $9/day per vehicle (plus an additional $9 if you bring a trailer).
3) Glenwood Whitewater Park
Looking for a little more of a challenge? Check out Glenwood Whitewater Park, in Glenwood, CO, the first of its kind on the Colorado River. This is a great place for advanced-level paddle boarders to practice in a relatively controlled environment.
The water park is a three-hour drive from Denver but it provides a great place to test your skills and it's free for users. After beating yourself up for a bit, check out the Iron Mountain Hot Springs just down the street. The hot spring resort boasts freshwater family pools, sixteen natural hot springs pools, and an elevated whirlpool spa with a calming waterfall where you can relax, restore and rejuvenate in the iron-rich thermal waters.
4) Vallecito Lake
If you find yourself down in southwest Colorado be sure to check out Vallecito Lake. This little gem located about 25 miles north of Durango is a great option for those looking to do some open water paddling.
Located in a beautiful valley with views of the surrounding peaks, this is one of the best places to paddle board in Colorado that you won't want to miss. There are some big fish in here too so don't forget your fishing pole! The public launch is free to use.
5) Blue Mesa Reservoir
Ready for a real workout? Check out Blue Mesa Reservoir. Located east of Montrose near the town of Gunnison, this is the largest reservoir in Colorado at 20 miles long with 96 miles of shoreline.
Like Vallecito Lake, there are trophy fish here and it's well worth bringing your fishing gear. A good place to launch your paddle board is the Elk Creek Marina & Visitor Center which is free to the public.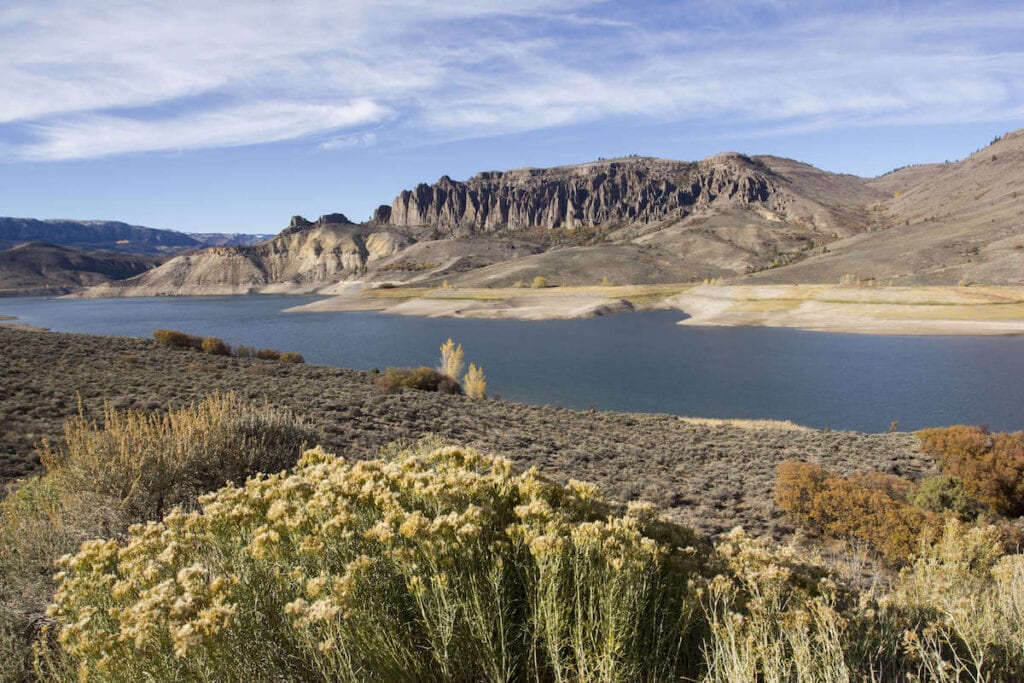 6. Barr Lake
Barr Lake in beautiful Barr Lake State Park just outside of Brighton, Colorado a short drive northeast of Denver. It's a great place to SUP in Colorado, especially if you don't want to travel far outside the big city. It also offers amazing views of Long Peak and Colorado's famous Rocky Mountain range.
In addition to paddle boarding, Barr Lake State Park is also home to 12 miles of trails including an 8.8-mile path that circles the lake, fishing, bird watching, boating, camping, and more.
Paddle boarders are required to wear a properly fitted PFD at all times on the water and have some sort of noise device like a whistle.
There is an entrance fee of $9 per vehicle or $4 for individuals.
Well, there you have it! These locations represent some of the best places to stand up paddle board in Colorado – they're accessible, inexpensive, and provide fun for the whole family.
What are your favorite places to SUP in Colorado? Did we miss any? Share your questions, comments, and experiences below!
The post 6 Best Places to SUP in Colorado appeared first on Bearfoot Theory.