Planning a Boundary Waters canoe trip in the Boundary Waters Canoe Area Wilderness (BWCA) involves navigating a labyrinth of over 1,000 lakes and islands. Located on the Minnesota/Canada border, I've made countless trips to the BWCA ever since I was a kid and it always delivers when I want a quiet week filled with great views and adventure.
The BWCA is the most-visited wilderness area in the U.S. and for good reason. From short overnight trips to multi-week remote adventures, the BWCA offers a unique camping experience for all skill levels. Like most remote camping trips, though, canoeing the BWCA requires planning in order to secure permits, learn how to navigate lakes and make portages, and assemble the right gear for a successful trip. I've made many trips to the BWCA, so in this post, I'm sharing all the important tips and guidance you'll need to have a successful trip in Minnesota's great north woods.
In this Boundary Waters canoe trip guide, I share everything you need to know to plan your own canoeing adventure to this amazing and remote area.
Important Reminder: As outdoor recreationists, it's our responsibility to know how to recreate responsibly on the water whether we're kayaking, paddleboarding, canoeing, rafting, or boating. Learn how to prevent the spread of aquatic invasive species with 3 easy steps that have a huge impact on our ecosystems.
Best Time to Canoe the Boundary Waters
Since the lakes freeze over in the winter, the best time to canoe the Boundary Waters is between spring, summer, and fall. Typically May through October is the canoeing season.
The summer months are the popular time to go, especially the back half of August. The water is warm enough to swim in and the weather gets up into the 70s and 80s. The main downside to canoeing in the summer months, however, is that mosquitoes and biting flies can put a huge damper on your trip. Bugs peak in mid-June and while the black flies last a week or two, the mosquitos stick around all summer. People share horror stories about the mosquitos, but truthfully they're not much different than anywhere else in the Midwest.
Visiting during the spring is constrained to the month of May since the lake ice usually doesn't melt until then. It's a great month for fishing, solitude, and returning animals and birds, but it can be cold — lows are typically in the 40s.
Fall is one of the best times to visit the BWCA. There are fewer or no bugs, the crowds are basically gone, the fish are returning to the shallow water, and the fall colors are changing. Camping from mid-September to mid-October is the best time to visit if you want to catch the fall foliage as the aspen, birch, and maples leaves begin turning red, orange, and yellow. Make sure to check out these fall camping tips if you plan to visit during this season.
No matter what time of year you visit, it's important to be prepared for cold temperatures, rainy weather, or submerged and wet gear. Always pack extra warm layers and don't use cotton.
---
Planning Your BWCA Route
BWCA entry points
There are two main BWCA entry points to start your trip: Ely and the Gunflint Trail. In general, the Ely area is quite wooded and has old-growth tree stands you can camp near. Visitors starting in the Gunflint area are likely to see the effects of fires and blowdowns, but while some forests in this area seem more sparse, there's a more remote, rugged quality to this terrain.
I've done a handful of canoe trips out of Ely, but I prefer the Gunflint area for starting a trip because you immediately enter into wilderness with a rugged character.
BWCA Portages
If you've never been to the Boundary Waters before, it's possible you've never had to portage a canoe before. Simply put, a portage is when you pick your canoe up and move it overland from one lake to another. The BWCA has over 1,000 lakes connected by portage paths of varying lengths — the shorter and fewer of them on your route, the easier it will be.
Portages are typically measured in rods, which is 16.5 feet long, roughly the length of your canoe. Portaging a canoe isn't as hard as it seems and it's actually easy to pick up and carry a canoe by yourself. It has more to do with skill than strength — forget the methods that have you quickly lift the canoe overhead like a powerlifter. Simply follow this method for picking up and carrying the canoe. I've seen retired folks do this in the BWCA with no problem at all.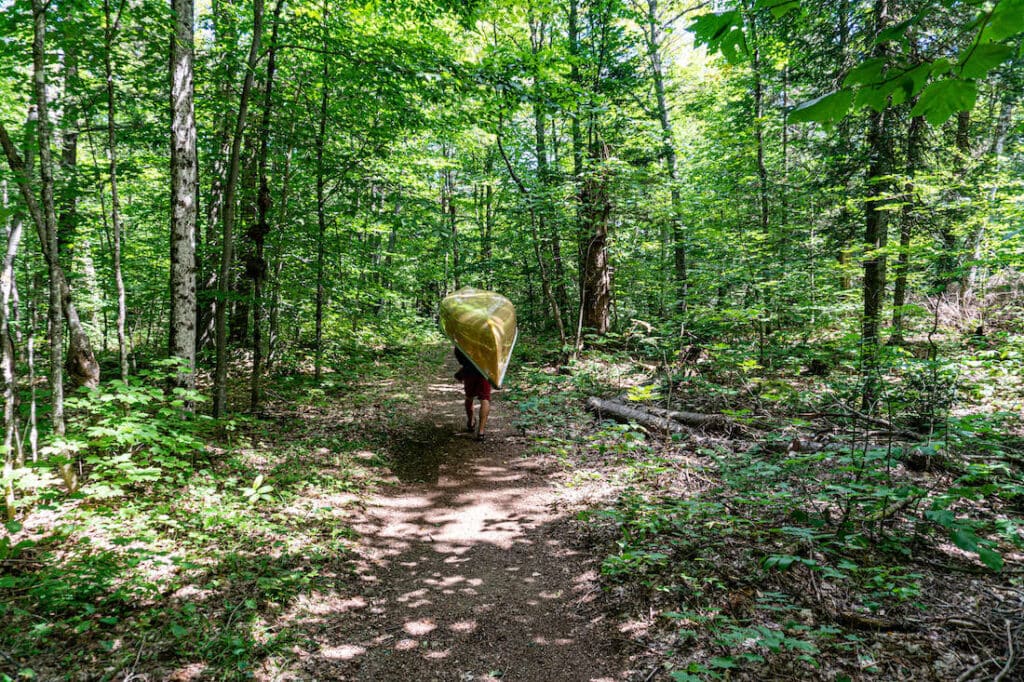 Boundary Waters Route Options
My favorite BWCA route is starting off at the Gunflint Trail at Saganaga Lake and canoeing to Red Rock Lake, Alpine Lake, and Sea Gull Lake to loop back to the start.
There are lots of different route options, though, and you can't go wrong using the Trip Planner from the Friends of the Boundary Waters Wilderness (more on them later) to cater the route to your trip. You can choose different routes depending on your timeframe, how many portages you'd like to take, how long you want to paddle each day, and your current skill level.
Boundary Waters canoe rentals & Outfitters
While some people bring their own canoes to the BWCA, there are plenty of Boundary Waters canoe rental outfitters in both Ely and the Gunflint Trail. Not only are they inexpensive, but the guides here are a wealth of knowledge for planning your trip, asking questions, and getting some great beta on the best swimming spots and fishing holes. I've had great experiences with Voyageur Canoe Outfitters.
Keep in mind that the BWCA is a very large wilderness area, and with so many lakes and islands, you could spend a lifetime exploring different routes. No matter if you choose Ely or Gunflint as your Boundary Waters entry point, you're going to have a blast.
---
BWCA Permits
Once you've decided on where you want to start your trip, you'll have to secure a BWCA permit. Permits are required for overnight trips from May 1 to September 30. Walk-up permits are available the day of and the day before your trip, but their availability is not guaranteed. Keep in mind you don't need to know exactly how many days or how many people are in your party to reserve a permit.
One Boundary Waters permit allows a group of up to 9 people and 4 watercraft to enter the wilderness. You can't exceed the group limit at any time on water or land. Fees are $16 per adult per trip ($8 per kid per trip), and there's also a non-refundable $6 reservation fee.
If you plan on fishing, obtain your fishing license before your trip either online or at any gas station/bait shop across the state. If you're a Minnesota resident, an annual fishing license is $25 or $14 for 72 hours. If you're a non-resident, it's $51 annually, $43 for 7 days, or $36 for 72 hours.
The reservation system for Boundary Waters permits opens up at 9 a.m. CT on the last Wednesday of January every year on the BWCA recreation.gov website. If you plan on canoeing outside of the May-September season, you do not need a permit. BWCA canoe rental businesses can also provide permits.
You'll need to pick up your permits in person at either a Superior National Forest district office or a BWCA outfitter in order to complete the mandatory Leave No Trace & Tread Lightly education session. This is a relatively short video/Q&A session that ensures visitors understand how to minimize their impact in the backcountry and stay safe in the remote wilderness.
While you don't need a permit to bring a dog into the BWCA, you should bring a current rabies certificate and rabies tag on their collar. Dogs are welcome in the wilderness if they have good voice control, don't bark or chase wild animals, have experience in a canoe, and are not left unattended. Always be prepared to clean up after your dog.
---
Boundary Waters Campsites
Boundary Waters campsites are spread throughout the wilderness area and tend to be on wooded shorelines. It's pretty obvious where most of them are, and they are clearly labeled on BWCA maps. An easy way to tell if a campsite is occupied or not is to look for canoes on the campground shoreline. You can only camp at existing campgrounds in the BWCA and the campgrounds are first-come, first-serve.
It's a good idea to break camp early and snag the campsite you'd like by early afternoon so you get the one you want. I once slept in and paddled during the afternoon instead and found every campsite was already taken at the lake I had planned to stay on. That meant a much longer day of paddling for me since I had no choice but to canoe on to the next lake and find the next empty campground.
My main consideration when choosing a campground is the view. Do you want to be on a peninsula surrounded by water, in a thickly wooded area, or do you want to make sure you have a great view of the sunset? Take your priorities into account when choosing your spot.
---
Boundary Waters Canoe Trip Gear
One of the best parts about canoe camping is that you only have to lug your gear on portages.
You can read our 3-day backpacking checklist to get a general idea of what you'll need. It goes without saying that the Boundary Waters is a remote area; be sure to pack warm clothing and rain gear so you can stay safe in the event of storms, submerged and wet packs, or days or rainy weather.
Shoes for the BWCA
You'll want good footwear for the Boundary Waters that can deal with water and rugged portages. I recommend water sandals whenever you're in the canoe or getting in and out. Check our review of the Teva Universal Trail Sandal. These would be a great choice for a BWCA trip.
For portages, you'll want hiking shoes or boots that have a closed-toe and closed-heel. These will keep your feet and ankles protected while carrying heavy packs and the canoe. Portages in the BWCA are filled with rocks, tree roots, and slippery mud so plan accordingly.
Dry Bags and Canoe Packs
While you can technically use a backpacking pack to carry your gear, using canoe packs from Duluth Pack, Frost River, or Granite Gear has its perks — it's also what you'll get from your outfitter if you rent a canoe. You can also invest in a few lightweight dry bags to keep your items dry and separated, like these Sea to Summit Lightweight Dry Sacks.
For a cheaper option, simply line your pack with a garbage bag and arrange your gear inside.
Navigating the Boundary Waters
You'll need a compass, map, and map case (outfitters will provide these) for a Boundary Waters canoe trip. Fisher Maps, McKenzie, and Voyageur make the best BWCA maps or National Geographic also makes a detailed BWCA Map Pack. There's little to no cell service in the BWCA, so don't rely on your phone for navigation and pack or rent a satellite communication device for safety.
To navigate the Boundary Waters, your best bet is to orient yourself using portages, campgrounds, and prominent features of the shoreline like points, islands, bays, etc. It's normal — and a right of passage — to get pretty confused about exactly where you are since the lakes and islands can make it seem like a maze. Don't worry, it's rare for visitors to actually get lost!
Water Gear & Equipment
Aluminum canoes are heavier to carry on portages, but they've got one big benefit: they're bombproof. No need to worry about scraping a rock in these! Kevlar canoes are more fragile and require extra effort when using them, but they're much lighter to use while paddling and portaging.
You'll also need a fair amount of gear for your canoe (outfitters will provide all of this): paddles, life jackets, duct tape, sponge and bailer, and cords to tie in your packs. If you're planning to fish, bring a pole and tackle box. And don't forget a swimsuit!
Clothing
Bear bags
There are bears that live in the BWCA, but they rarely bother people. Most visitors opt to hang their food from a tree instead of bringing a bear canister. To hang your food bag, find a tree limb about 15-20 feet off the ground. Attach a heavy item to the end of your rope and throw it over the branch so that the rope is 4 feet away from the trunk. Now attach your bear sack to the rope, pulley your bag into the air, and tie off your rope. With a little searching, you can usually find a popular tree limb that's used near each campground.
Water Filtration
Luckily, obtaining water in the Boundary Waters is much easier than most backpacking trips. While old-timers may still drink straight from the lake, it's safer if you boil or filter the water. Simply paddle out away from your campsite and fill your containers from the lake, then purify or boil the water before using. While I used to drink straight from the lake, it's not worth risking a Giardia infection.
The Platypus GravityWorks filter system is simple to use without needing to pump it. I've also used a Katadyn Hiker Microfilter in the BWCA, too, which I like because you can filter water straight into your water bottle while you're canoeing.
I recommend filling and treating a 1- to 3-gallon water container when you arrive at your campsite to use for dinner, breakfast, and filling smaller 1-liter Nalgenes for the next day's paddle.
Fire, Camp Stoves, and Cooking Gear
BWCA campgrounds have a fire pit area that can be used for cooking as long as there isn't a fire ban in the area. The fires must be small and be put out completely when you're not in camp. Firewood is available from the surrounding forest, but remember to only take dead and downed wood — live wood doesn't burn well, anyway. If there is a fire ban, bring a camp stove for your cooking.
Sun Protection
It's easy to get sunburned on a Boundary Waters canoe trip. Not only are you spending a lot of time out under the sun, but it's also reflecting upward from your canoe and the water, too! Use sunscreen, a sun hat, and consider UPF clothing to keep the sun at bay.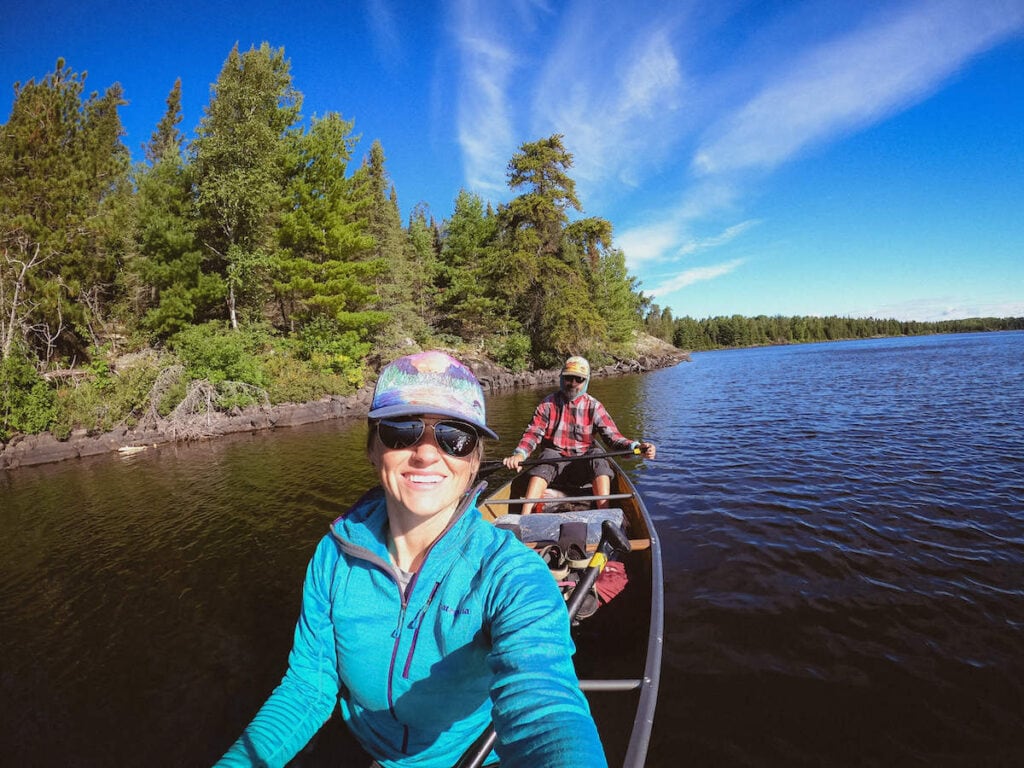 ---
Help Protect the Boundary Waters
The BWCA is a unique, special place. But that doesn't mean it always will be. Consider supporting the Friends of the Boundary Waters Wilderness to ensure this national treasure stays protected. Proposed copper-sulfide mines like Twin Metals risk contaminating and permanently polluting the Boundary Waters.
Learn more about threats to the BWCA and how you can help protect it by supporting Friends of the Boundary Waters Wilderness.
---
Taking a canoe trip through Minnesota's Boundary Waters is a trip unlike any other, and thanks to its massive size and undeveloped character, it's a wilderness you can return to again and again for new adventures. Whether you're a seasoned paddler or new to canoe camping, the BWCA will not disappoint!
Have you done a Boundary Waters canoe trip or are you planning one? What questions do you still have? Let us know in the comments!
The post How to Plan a Boundary Waters Canoe Trip in Minnesota appeared first on Bearfoot Theory.