If you've ever been to Montana or seen photos of Montana's landscape, you probably already know that there are endless mountain ranges, two large National Parks, and an abundance of rivers and lakes to explore. Although the big National Parks get a lot of attention (and the most visitors) there are a lot of opportunities for you to experience Montana's beauty off the beaten path and many of these lesser-visited places can be just as spectacular and memorable. Lake Como, Montana is one of those places.
Lake Como is nestled in Montana's famous Bitterroot Valley. It's located just a few miles from Highway 93 north of Darby, MT and about eight miles south of Hamilton, MT in Western Montana. The lake encompasses more than 900 acres and sits at an elevation of 4,398 feet. It's a hidden gem you won't want to miss in Big Sky Country. Whether you live in Montana and you're looking for new places to explore, or you're visiting Montana for the first time, Lake Como, Montana has a lot to offer for outdoor adventurers.
Here are five of the best outdoor activities in Montana's Lake Como recreation area.
Important Reminder: As it goes in all of the destinations we share, please practice good trail etiquette and remember to Leave No Trace. This means packing out all of your garbage (including toilet paper), being respectful to others on busy trails, and following the established rules.
Tips for visiting Lake Como, Montana
As a local Montanan, I highly recommend visiting Lake Como the next time you're traveling through western Montana. The lake offers something to do for all ages and you should leave the lake feeling refreshed and renewed. It's also a beautiful hidden gem that even some locals don't know about. And the scenic drive down the Bitterroot Valley to reach the lake is an adventure alone. Here are a few tips for your visit to Lake Como:
As of September 2021, Lake Como charges a $5 day-use fee
There is no cell service at Lake Como, so be prepared to unplug from technology
Check with the local ranger station to make sure roads and trails are clear before you go. If you're visiting Lake Como in winter months or even early spring, make sure the roads are accessible before you go since Montana gets a lot of snow.
The water levels of Lake Como vary throughout the year – sometimes you will swim in shallow water and other times the water can be very deep.
Check out local restaurants before and/or after your outdoor adventure. The Bitterroot Valley has a variety of restaurants to choose from like Nap's Grill — a local (and delicious) hamburger restaurant in Hamilton, MT less than ten miles from the lake.
Bring lots of water or a water filter for hydration. There are no drinking fountains or stores to get water nearby so you'll want to be prepared and haul in your own water.
---
Top Things To Do On Lake Como, Montana
1. Hiking the Lake Como Trails
Lake Como attracts hikers of all skill levels. The 7.9-mile Lake Como Loop Trail wraps all the way around the lake and offers some unique mountain views. The trail is mostly flat with some sloping up and down, so it's a good trail even for beginner hikers.
The Lake Como Loop Trail is a mix of pavement, dirt, and rock. You'll want to wear hiking shoes or boots with good tread, so you're comfortable and safe on the trail. You can also rest on benches along the trail's route if you want to take a break from hiking or simply sit and enjoy the views. The best thing about the trail is that you don't have to hike the entire trail to enjoy the vistas. You can hike in a little way and turn around and you'll still experience nature's beauty.
Just like most of the hikes in Montana's Bitterroot Valley, it's best to go hiking from June to November to avoid heavy snowpack. There's also a small seasonal waterfall along the trail on the back end about 3-miles into the hike if you start from the trailhead of the north shore trail. You'll also find a lot of evergreen trees along the way for some shade — which is especially nice while summer hiking. Of course, as with any trail you hike in Montana, you should be bear aware and watch out for wildlife while you're hiking around Lake Como.
Other popular trails in the area include the Blodgett Canyon to Waterfall Trail where you can view a seasonal waterfall, the Blodgett Canyon Trail with spectacular cliff views, and the Soft Rock Trail with rolling hills that's a popular destination for mountain bikers.
2. Kayaking & Paddle Boarding on Lake Como
Spending a day on the calm waters of Lake Como kayaking or stand-up paddle boarding is a peaceful way to spend an afternoon. There's a nice low spot for you to easily drop in your stand-up paddle board (SUP) or kayak at the boat launch. To get there, follow the signs to the boat launch once you enter the Lake Como recreation area.
If you're coming from the north, you can stop in at The Trailhead — about 45 minutes from Lake Como — and rent an inflatable or hard-shell kayak or paddle board for your adventure.
Once you're on the lake, the iconic mountain views are your backdrop. If you go early in the morning or on a weekday, you may even have the entire lake to yourself and enjoy some solitude. Summer is the busiest, especially on the weekends, but you won't encounter crowds like you would at a National Park.
For stand-up paddle boarders, you'll love the calm waters of Lake Como. The waves are small and offer a calming experience. For all paddlers, if you paddle out to the back end of the lake and pull your kayak or SUP on the bank, you can walk up to the waterfall. There are also seasonal wild huckleberries and raspberries you can pick along the way before paddling back to the boat launch.
3. Lake Como fishing
If you're an angler, you'll enjoy fishing on Lake Como in early spring through mid-July when the water level is highest. If you want to fish by boat, the boat launch can accommodate parking for 40 vehicles-plus-trailer, so you have a good chance of getting a spot. You can also fly fish in the lake or from the shore.
The Bitteroot Fly Company rents out fly fishing equipment if you need gear. They have fly fishing rods and reels, fishing waders, and boots available. They're located just 10 miles from Lake Como in Darby, Montana.
You can fish Lake Como for a variety of species like Kokanee, Rainbow Trout, and Mountain Whitefish. Managers who oversee fisheries in Montana stock the lake with fish each year, so you're sure to catch a bite with the right bait and fishing pole set up. As always when fishing in Montana, be sure to check with the local Fish and Wildlife Parks department for licensing and fishing regulations.
4. Lake Como camping & cabin rental
If you want to spend a night under the stars at Lake Como or bring your camper van or RV, the Lake Como Campground is a great option. The campground — also known as "Lower Como" has ten 125' pull-through RV camping sites with both electric and water hookups for less than $30 a night. There are also several tent sites you can stay at for up to seven consecutive days. The campground is easily accessible and has several bathrooms throughout.
If you want to stay in a rustic cabin while you're visiting Lake Como, you can book the Woods Cabin — a decommissioned U.S. Forest Service cabin — through Recreation.org. U.S. Forest Service workers built the cabin in 1928 and it overlooks Lake Como. The cabin also sits in a forested area, so you have a lot of privacy along with peace and quiet. You can comfortably sleep 12 people in the cabin, so it's a great option for larger groups or multi-family trips.
You will need to haul in a lot of gear including water, though. Firewood and a splitting maul are provided in colder months so you can stay warm by the fire. Typically, you can rent the Woods Cabin for around $70 a night. This is an extremely popular spot to book, so plan well in advance.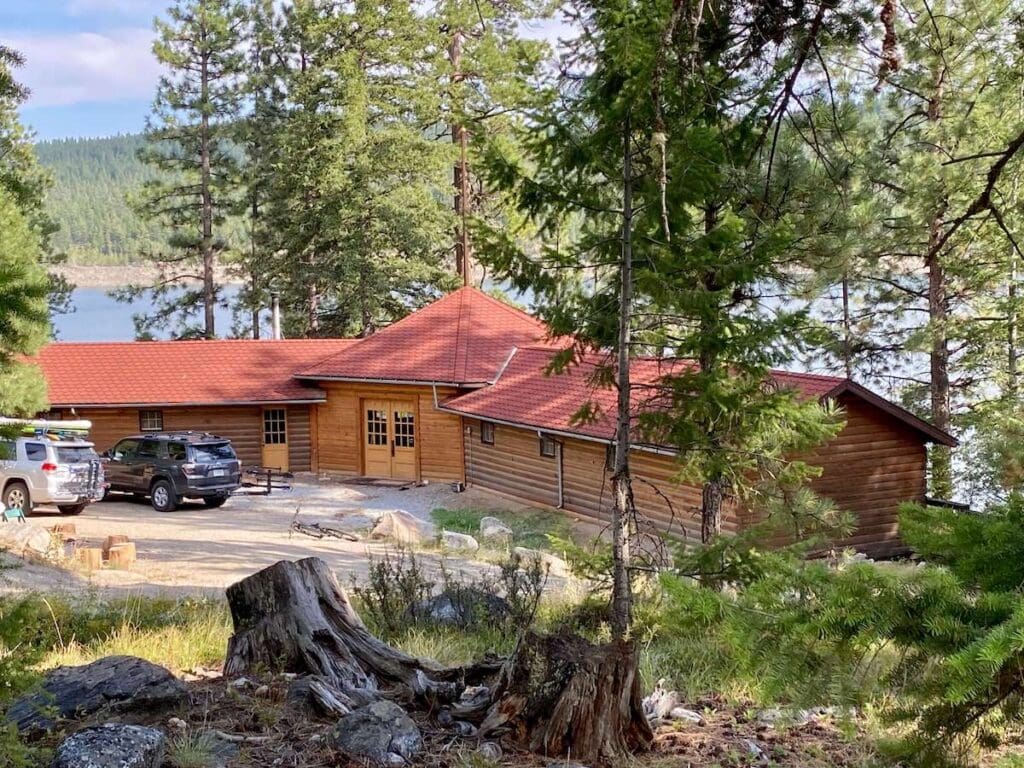 5. Lake Como Wildlife viewing
If you'd like to see a variety of Montana's wildlife species, Lake Como is a good area for it. Lake Como visitors have encountered bald eagles, elk, moose, osprey, deer and bears to name a few. Remember though that wildlife is wild, and you just never know when a bird or larger animal will pass through, so you'll want to be on the lookout.
Be sure to pack your binoculars before you go so you can keep your distance while still enjoying wildlife closely through lenses. The area is also a haven for wildlife photographers and landscape photographers as Lake Como — paired with the mountains — creates a beautiful backdrop for a postcard-like image.
---
Do you have any questions about visiting Lake Como, Montana or have you been there? Leave us a comment below!
The post Top 5 Things to Do At Lake Como, Montana appeared first on Bearfoot Theory.